Heal Integrative Veterinarian in South Tahoe
Does your dog prefer a hike with you or is he a couch potato? Does your cat like empty boxes or mouse toys? At Heal, Dr. Turner understands no two animals are alike and their healthcare options should be as unique as their personalities.
Senior Pet Slowing Down?
Heal can help.
If your pet is weak or falling more than they should,  help is available!
Dr. Turner offers a wide range of services tailored to your individual pets to help them feel their best no matter their age or diagnosis.
The goal is to keep your companions doing things they love.
Treat the individual, not the disease.
 You know them the best. 
An Integrative care visit at Heal starts with getting to know all about you and your pet. During our comprehensive consultation, we create a customized plan together with a combination of Western and holistic options.
Your pets love you the best, and you know them the best. Dr. Turner empowers you to be their best advocate.
Some of our Practice Areas
Give 'em a Healthy Start
What food is the best? Can I run with my puppy? Are vaccines harmful? My puppy has diarrhea, what should I do? Should I get pet insurance? How do I learn to speak "dog?"
Food Therapy
Fresh food nutrition is a powerful tool. We can e formulate an easy, balanced homemade diet or help you select the best quality commercial diets for your dog or cat's needs.
Hospice & Palliative Care
We offer palliative and hospice care for pets of any age with chronic disease or cancer.  We empower and support you during this uncertain time to: advocate for your pet, provide comfort care in your own home, and help you to make informed decisions.
Rehabilitation and Underwater Treadmill
We help animals improve their mobility so you can continue doing the things you love together.  We help older pets stay mobile, post-op pets heal fast, and healthy pets avoid injury.
Acupuncture
Besides helping pets relax and love coming to see us, acupuncture improves blood flow to injured tissue and organs , creates relaxing endorphins, and just plain feels great. Most dogs love getting acupuncture!
Herbal medicine
Herbal medicine works well with acupuncture and food therapy or on its own. We can harness the power of plant medicine to help pets recover from injury and illness and to support cancer patients with or without chemotherapy.
What does your pet love to do?
We keep them doing the th

ings they love!

Our patients maintain their relationship with their family veterinarian for routine and urgent care. We coordinate treatment plans with them and work with any  medications your pet may already be receiving.

We designed Heal to be the most four-leg friendly veterinary clinic in the Tahoe area. We emphasize low-stress handling techniques and trust-building with all our animal patients. We want your animals to love coming to see us!

Many people are surprised by how relaxing acupuncture can be for their animals. Research has shown that acupuncture has physiologic effects on the body that help with pain relief, reduce inflammation, strengthen the immune system, regulate hormones, and promote circulation.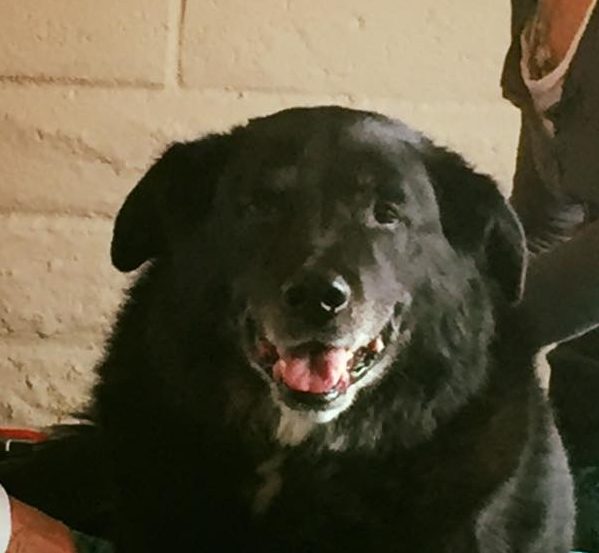 Huey
Chronic Arthritis and ACL tear
Huey Louis is a happy guy despite chronic arthritis in his back and multiple joints. He visits us for acupuncture, rehab, laser, and massage therapy to help his aches and pains. He loves the PEMF bed he uses for at-home therapy between visits. He takes herbal medicine and eats a nutritious and balanced homemade diet full of fresh foods and vegetables. Huey is doing great despite his arthritis. He has a great attitude and he loves to visit Heal.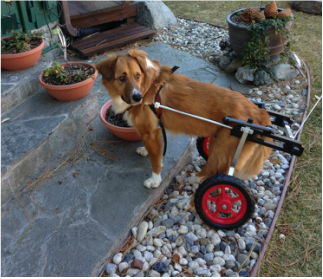 Jingo
Recovery from paralysis
Jingo was a miracle dog who recovered from paralysis in 2014 and continues to thrive today. He was sent home from UC Davis after they decided he was not a candidate for surgery. Still unable to walk, his prognosis for recovery was guarded. He started having acupuncture treatments and after just a few sessions, he started walking again. Jingo continues to visit for acupuncture, massage, and exercise therapy sessions to help maintain his strength and mobility.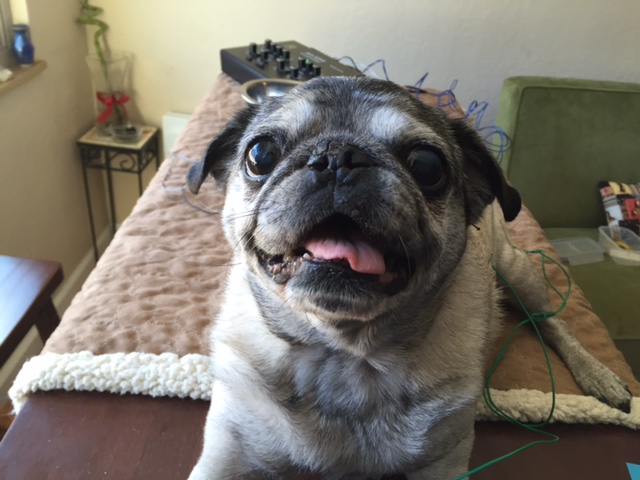 Bunny
End of Life Care
Bunny started coming to see us after conventional medicine failed to provide her with improvement in her mobility.  Her Mom was concerned her decline might mean the end was near.  When she started coming to Heal, she could only take a few steps before collapsing on to her head or falling over because of hind end weakness. But after several patient weeks of acupuncture, food therapy, and herbal medicine, she was running again. Bunny lived another happy and mobile two years with an amazing quality of life before she faced some other serious medical issues. We miss her sweet little pug face and challenging wiggly acupuncture sessions.
"Thank you for the summary and for taking care of us!  It was very helpful information and made me feel a bit more comfortable with the whole process. I can't tell you enough how much I appreciate your help."
I brought my Search and Rescue K9 to Heal after exposure during the Paradise Fire. We worked on "detox" and Mika did great! This is a such a brave dog that she rides on boats, snowmobiles, helicopters, ATVs and I need to carry her into the Vet's office. Not at Heal!!! She walks right in like a big girl! It's a calm environment and they do such a great job!
"I thought I'd let you know that Pai has just had her 15th birthday and is still going strong! She's a bit wobbly, but still active and engaged, and we put that down to the work we did with you. We get lots of comments about how good she is for her age, so thanks again! "
Question? Send us an email.